New Jersey's Choice for Professional Tree Care
Trees are more than our business—they are our passion, area of expertise and way of life. Established in 1998 by certified master arborist and tree expert Steven Muench, All American Tree Service is New Jersey's premier choice for tree care professionals.
We are a customer–oriented company and every effort is made to accommodate our customers' preferred timeframes. We believe hard work and honesty are the keys to providing exceptional service. We strive to have the best crew in the region and our master arborist and owner is on-site at every job to ensure your tree needs are met with the very best standards in tree care.
We can offer you a wide array of services, including: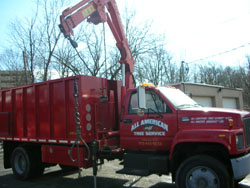 Tree trimming and pruning
Tree takedown, removal and replacement
Tree and shrub planting
Custom–blended fertilizers
Tree disease treatments
Plant health care and pest treatments
Stump removal
Certified arborist reports
Read on, and we'll show you how together, we can make your yard or property a sight to see. Or give us a call, and let us begin helping you maintain the beauty, health, and well–being of your valuable trees and grounds today!